UK Biobank is a uniquely powerful biomedical database to support your research. Our goal is to enable your vision for novel scientific discoveries that improve human health. We do this by providing easily accessible data on half a million participants to scientists all over the world to undertake imaginative and pioneering studies that will transform health.
Discover UK Biobank 
UK Biobank is a world-leading biomedical database to enable scientific discoveries that improve human health. Our goal is to inspire the imaginations of health researchers around the world to meet the challenge of greater understanding, prevention, and treatment of a range of serious illnesses. UK Biobank has Research Tissue Bank Approval till 2026 and through access to an unmatched amount of biological and medical data on half a million people living in the UK, we can enable your vision of improving human health. 
UK Biobank is a longitudinal study; it follows the health of 500,000 volunteer participants.
Participants were aged between 40-69 years when they joined UK Biobank between 2006-2010.
Each participant attended a baseline assessment at a centre in England (89%), Scotland (7%) and Wales (4%).
Participants provided their consent for long-term follow-up.
Participants answered lots of questions about their health & lifestyle.
Participants donated samples of blood, urine and saliva for long-term storage and analysis.
Physical measurements were also taken (e.g. height, weight, spirometry, blood pressure, heel bone density).
Many participants have undertaken MR brain & heart imaging, activity monitoring and online follow-up questionnaires.
We have genetic data on all 500,000 participants.

UK Biobank is not representative of the general population with evidence of a 'healthy volunteer' selection bias, details of which are published online.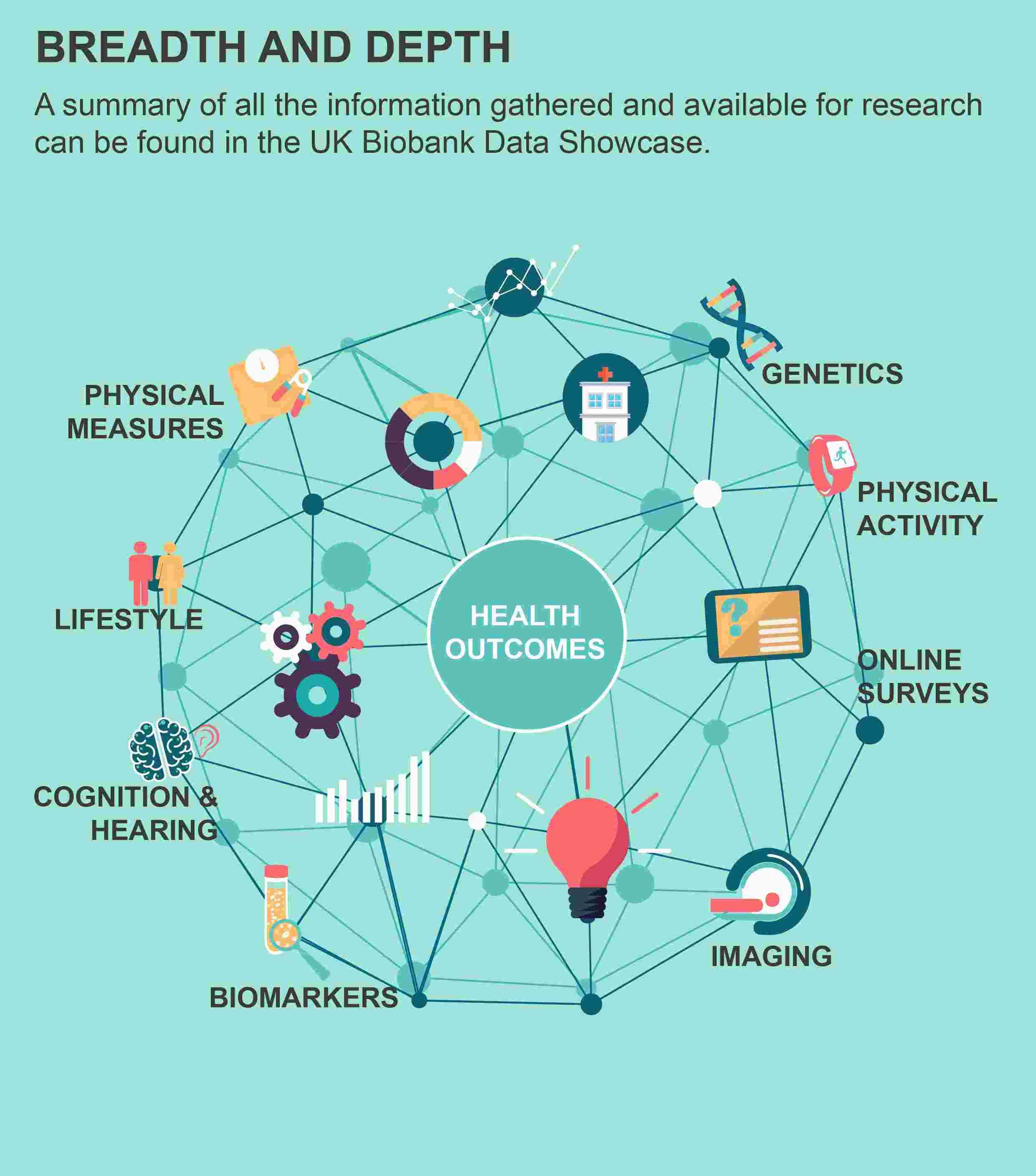 You can find a summary of all the information collected on participants so far in our Data Showcase.
Imaging study
UK Biobank is conducting the world's largest health imaging study for 100,000 participants, with 10,000 returning for repeat imaging 2 years after their first visit. The project includes MRI of brain, heart and body, full-body DEXA scan of the bones and joints, and an ultrasound scan of the carotid arteries. 
Health records
On joining UK Biobank, participants consented to have their health followed over many years through linkage to their health-related records. UK Biobank has linked to cancer and death registry data, hospital inpatient admissions and primary care records. These data are generally updated annually. 
Researchers are helping UK Biobank to develop algorithms to identify common disorders such as stroke, heart disease and dementia. 
Genetics
UK Biobank has received funding from government, charity and industry to extract a range of genetic data from participant samples. 
Genotyping using Affymetrix microarray
Whole Exome Sequencing
Whole Genome Sequencing
Accessing the UK Biobank resource
Since 2012, bona fide researchers can apply to access the UK Biobank research resource to conduct health-related research that is in the public interest. 
As UK Biobank continues to release additional data relating to our participants (such as data on genetics, imaging and health records) interest in the resource has grown.  
UK Biobank welcomes applications from the UK and overseas and from academia and industry.
Researcher requirements
Researchers must register with UK Biobank in order to use the data. To do this they must provide evidence that they are a bona fide researcher at an appropriate institute and submit an application detailing their proposed research for review by UK Biobank. Once approved and data have been released, researchers must: 
Notify UK Biobank of any research outputs resulting from the project at least 2 weeks in advance of their publication or release
Inform UK Biobank of any press releases associated with a UK Biobank project
Return the results of UK Biobank projects within 6 months of public release, including any derived variables and the code used to generate the results, so that they can be shared with other researchers
How is UK Biobank being used?
There are a number of easy ways to find out how UK Biobank is being used. Follow the links at the top of this page to our list of Approved Research projects and Publications.  Each year we host a scientific conference - and you can hear from this year's speakers by clicking the button below.
How has UK Biobank helped you?
We are always eager to showcase researchers that have used UK Biobank's biomedical database and research resource to make scientific discoveries that improve human health. If you are happy to be featured in a case study or other material, click on the button below to email the communications team.