Following your health
Being able to follow your health over many years is critical to the value of UK Biobank. It is one which sets the research resource apart from many other studies. When combined with the health and other information about your lifestyle that you continue to give to us, as well as the genetic and imaging data gathered, it provides a rich and valuable resource for a wide range of studies.
We are able to follow your health in 2 ways: by directly asking you questions (using online questionnaires), and by linking to your electronic health-related records, such as primary care (GP records), hospital inpatient records and from cancer and death registries.
Using these data, we are able to provide researchers with a picture of your health both before and after certain diseases are diagnosed. This can help to show how multiple conditions (and their treatments) might affect each other. Perhaps more importantly, it provides a comprehensive way of researchers investigating the causes of a wide range of health outcomes. Collecting data electronically on a regular basis (e.g. annually) means we do not have to keeping asking you for changes in your health and will contain lots of detail on treatments, operations and procedures and prescriptions that you may not remember. 
There is no reason for you to contact UK Biobank about your health, since we follow-up your health through linkage to electronic health-related records. Health information is provided in a coded form, with each code representing different aspects of your health, including diagnoses and treatment. We check the data before it is released to ensure that no potentially disclosive data is released to researchers.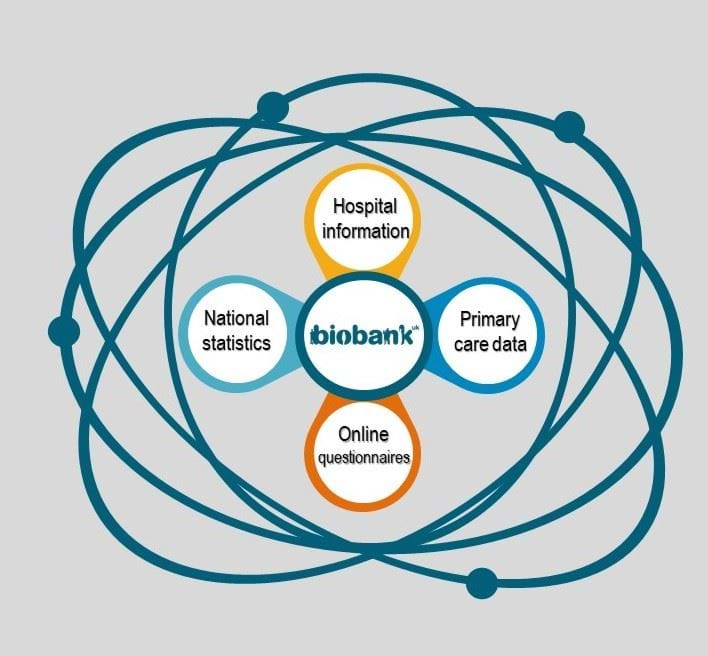 How do we do it?
There are a number of ways that UK Biobank is able to follow your health:
Links to national statistics
Links to national cancer and death registries. 
Hospital information
Links to information collected by hospitals about inpatient admissions (including diagnoses and underlying conditions) and operations and procedures.
Links to primary care
Links to GP (general practice) records. These data provide information on symptoms, conditions and medications issued by your GP. Many of these conditions cause considerable morbidity, such as dementia, depression and migraine, as well as more general conditions relating to frailty and old age.
Online questionnaires
We send you regular emails to invite you to complete questionnaires about specific topics, such as dietary intake, food preferences, cognitive function and work history. This is an effective way of allowing us to add layers of information that is otherwise not possible by linking to your health records. 
Will you provide me with any feedback about my health?
UK Biobank does not provide participants with health feedback, and all participants agreed to this important principle when they joined the study. Aside from the practical reasons of trying to keep people informed there are ethical questions too. Being a part of UK Biobank is truly doing something for others, but the advances in health prevention and care brought about by research using the resource will be fed back to participants – so that we all benefit.
Any other queries can be addressed by our Participant Resource Centre (PRC).
This video sheds more light on primary care linkage within UK Biobank
Can I help with research when I die?
Some people choose to leave their body to medical research when they die. UK Biobank is not able to take possession of a body (or organs such as brain and heart).
However, if you wish to leave your body to science, you should talk to your local teaching hospital which will be able to advise you of the steps to take.
Studying the COVID-19 pandemic
In 2020 and 2021 we made the following electronic health data available to researchers to assist with urgent research into COVID-19. This included:
COVID-19 diagnostic test data
GP data
Hospital inpatient data including critical care data 
Death data
Identifying health outcomes from the linked medical data  
A considerable amount of work is taking place to generate 'research-ready' health outcomes from the linked electronic medical records. This involves implementing algorithms that identify health conditions across different medical records that use a variety of codes to assign clinical conditions. 
A stroke is a debilitating and life-threatening condition that requires emergency care. It has two distinct and quite different causes: a blockage in the brain, or a bleed on the brain. Algorithms have been created to identify the different forms of stroke in the data – allowing scientists to be sure their research is based on true accounts. 
Find out about the latest heart research using UK Biobank data!