UK Biobank funders have enabled the creation and ongoing development of a world-leading, prospective health study that is proving critical in tackling both immediate and longer-term health challenges.
We are grateful to the dedication and support of our core funders, who have committed core funding until 2022. This support makes it possible for UK Biobank to deliver on our aim of supporting the global research community to advance our understanding of the determinants of disease.
Core funding
UK Biobank was established by the Wellcome Trust medical charity, Medical Research Council, Department of Health, Scottish Government and the Northwest Regional Development Agency.
It has also had funding from the Welsh Government, British Heart Foundation, Cancer Research UK and Diabetes UK. UK Biobank is supported by the National Health Service (NHS). UK Biobank is open to bona fide researchers anywhere in the world, including those funded by academia and industry. The medical research project is a non-profit charity which has received core funding of around £133 Million. Core funding continues to be received from the Wellcome Trust, the MRC, and more recently, from Cancer Research UK and NIHR.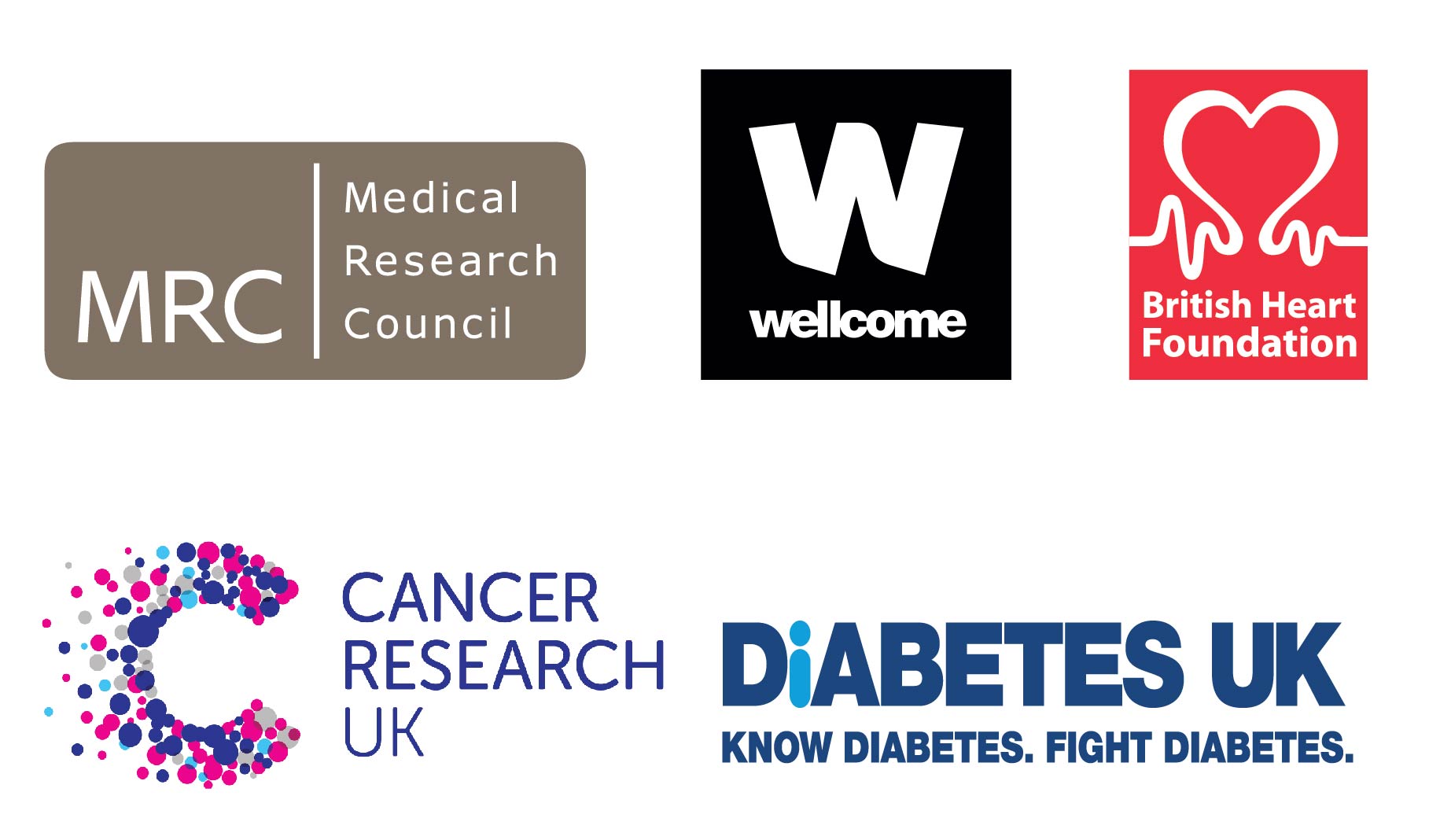 Additional funding
UK Biobank has received additional funding for: genotyping of all 500,000 participants (from the Department of Health, Medical Research Council, British Heart Foundation); for the measurement of biochemistry markers in all 500,000 participants (from the Wellcome Trust, Medical Research Council, British Heart Foundation, Diabetes UK); for imaging 100,000 participants (Wellcome Trust, Medical Research Council, British Heart Foundation) and re-imaging 10,000 participants (Dementia Platform UK) and for establishing a remote analysis platform (Wellcome Trust).
Research group investments
Researchers, particularly from industry, are enhancing the resource further (for example, by funding cohort-wide assays) in order to augment their own research aims, while at the same time benefiting the wider research community as the enhancements are shared with all researchers after a limited exclusivity period, which is now set at a fixed period of 9 months.
Examples of this include cohort-wide assays of whole exome sequencing, whole genome sequencing, telomere length and NMR-metabolomics.