Novel method unveiled to identify people with low muscle mass and function
UK Biobank imaging data has enabled researchers to develop a new method to identify people with low muscle volume and poor functional muscle performance in conditions such as sarcopenia.  This novel method could pave the way to standardised assessment of the condition to better treat patients.
Sarcopenia is a condition characterised by gradual loss of muscle mass and can have disease-related complications, which can greatly affect the quality of life for those with the condition.
Accurately assessing sarcopenia is difficult due to muscle volume and function being influenced by several factors such as age, weight, fitness, pain and disease. Weight is an area which presents an opportunity for improved diagnosis of the condition, as in current definitions sarcopenia is seen to decrease as BMI increases, yet contrarily as BMI increases, functional muscle performance declines.
Researchers accessed MRI scans of the body for 9,600 UK Biobank participants to analyse body composition. Using advanced imaging analytics software they quantified both fat free muscle volume and muscle fat infiltration. These were compared against an innovative measure, a virtual control group matched by sex and BMI to the UK Biobank data.
In line with current healthcare muscle assessments, the clinical value of this new combined method for sarcopenia was evaluated by looking at associations with hand grip strength, walking pace, stair climbing, falls, and health care burden and compared with separate evaluations using either fat-free muscle volume or muscle fat infiltration.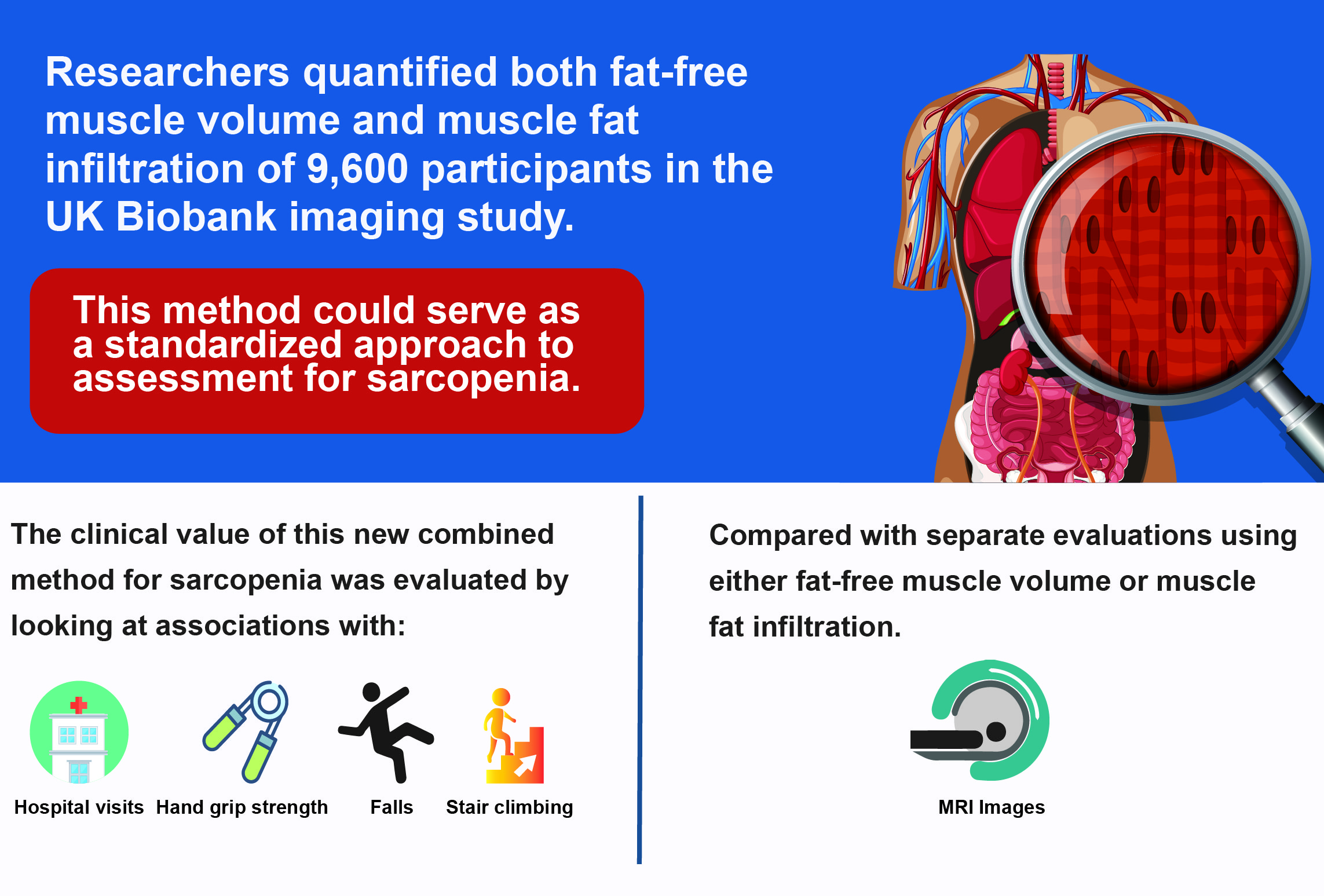 Assessing fat-free muscle volume and muscle fat infiltration through the use of body imaging showed the highest diagnostic performance for detecting low function. It is hoped this method could inform diagnosis practices, enable cross-study comparisons, and further the field of sarcopenia research leading to better treatment for patients. 
UK Biobank has already imaged almost 50,000 participants and is planning to double that number in the next three years.
""It is encouraging to see important work like this being generated on body images of 10,000 UK Biobank participants. As the technology to do this type of research improves, we anticipate further exciting advances that will help scientists find ways to ensure we live healthier lives for longer.""

Professor Rory Collins, UK Biobank Principal Investigator